A strong partnership exists between Owen Industries and Iowa Western Community College. The combination of RTI-Related Training Instruction and OJT-On the Job Training has produced a successful Paxton & Vierling Steel Structures-Welder Apprenticeship Program, certified by the USDOL-United States Department of Labor.
Pictured above: (from left to right) Dr. Dan Kinney – President IWCC, Staryln Perdue – Director, IWCC Economic Development, Ron DeBord – VP Human Resources, Mark Stanley – VP of Economic & Workforce Development.
Pictured below: Ron DeBord – VP Human Resources, Jon Jacobsen – Iowa House of Representatives.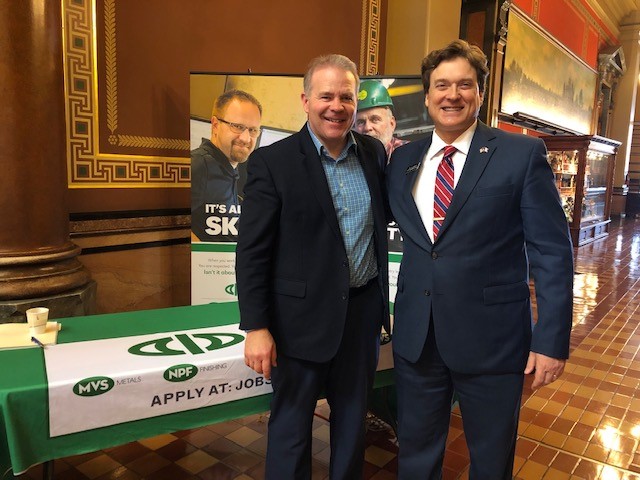 Our collaboration with Iowa Western Community College was showcased at an event on March 3rd – "College Day on Capitol Hill". Colleges and Industry partners met in the Capitol Rotunda to showcase training programs, while discussing the future of skilled trades and the need for ongoing support at the state level. Ron DeBord – VP of Human Resources attended while having very productive conversations with Lobbyist and State Senators who support our local junior college programs that address workforce challenges, as we seek to close the gap with a rising demand of skilled trades workers and a growing economy.