Owen Metals Group is the parent company of five steel processing companies throughout the Midwest. Steel Fabrication opportunities are offered through a separate subsidiary, Owen Industries.
Our oldest division, PVS Structures, was founded in Omaha, NE as Paxton & Vierling Iron Works in 1885, and focused primarily on our foundry and structural products. The company eventually rebranded as Paxton & Vierling Steel (PVS) in 1954, and our logo has worn the badge of PVS ever since.
In the 1950s, the ownership broke ground for a new steel facility in Sioux City, IA, named Missouri Valley Steel (MVS). Concurrently, Paxton & Vierling branched into Service Center Warehouse sales in the 1960s, and eventually split off as a separate entity when it moved into more advanced steel processing in the late 1990s. This company is now called PVS Metals and resides in a state-of-the-art facility in Carter Lake, IA.
Owen extended its warehouse and metal processing capabilities to the northern tier by building a new plant in Fargo, ND, Northern Plains Steel (NPS). Next, we integrated powder coating capabilities for OEM and other similar customers through our Northern Plains Finishing (NPF) division. Our latest pursuit was the 2021 acquisition of Omaha Steel Castings (OSC) in Omaha, NE, one of the newest steel foundries in the United States. It brings us back to the company's roots in steel castings while also providing a means for recycling the scrap material generated by our standard steel processing.
Owen, a private company, powered by over 500 dedicated professionals, believes that the best projects view the customer and supplier relationship as a partnership where proper execution allows all parties to succeed.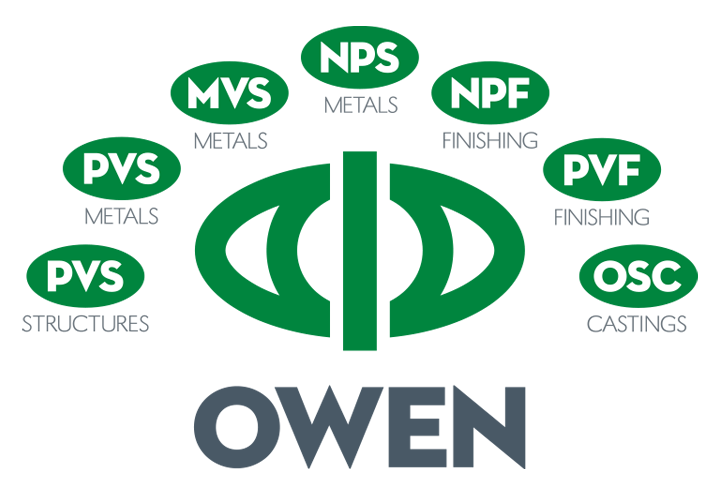 Due to a quality issue with another supplier, we were looking for a reliable source for affordable sheet and plate. We met with Owen representatives, explained our special needs for a wide variety of material thicknesses and grades, plus just in time delivery, usually with short notice. They have become our main supplier for sheet and plate, excelling with quality, service and hard-to-beat pricing. If there is an issue, they are very responsive and willing to investigate and implement ways to keep delivering the quality we require to meet our customers' needs.

---
500 Avenue H
Carter Lake, IA 51510
712.347.5500
800.831.9252

---
1300 Division St
Sioux City, IA 51105
712.255.1616
800.831.0944

---
3801 15th Ave N
Fargo, ND 58102
701.282.6465
800.342.4543

---
15514 37th Street SE
Casselton, ND 58012
701.347.0210

---
501 Avenue H
Carter Lake, IA 51510
712.347.5500
800.831.9252

---
501 Avenue H
Carter Lake, IA 51510
712.347.5500
800.831.9252

---
921 E 12th Street
Wahoo, NE 68066
402.277.7400