In 1915, the corners of 36th & Farnam streets in Omaha, which is part of the "Blackstone District" looked drastically different.  In fact, this area was once considered West Omaha, which would make most present-day Omaha residents laugh out loud.  A new and exciting Blackstone Hotel was being completed and it was hailed as "Omaha's Newest Home Place, in the Most Exclusive Part of the City." *
In that same year, Paxton & Vierling Steel had just celebrated their 30th anniversary. The Blackstone Hotel project was nearing completion with over 600 tons of steel which had been fabricated by PVS.
Fast forward 103 years. PVS, which has celebrated its 133rd anniversary and fourth generation owner, is again fabricating near that once historic corner in what many would refer to as an exclusive part of the city.  In fact, you can still see the Blackstone Hotel, fabricated 103 years ago, standing tall from the shadows of the new Blackstone Corner. (pic below right side)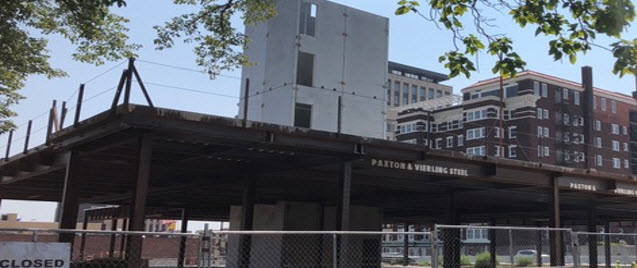 A new $22 million development called the Blackstone Corner, is being developed by a couple entrepreneurs, who have a vision much like the Blackstone Hotel developers did in 1915. The Blackstone Corner is a new six-level structure containing 112 apartments, underground parking and street retail spaces. **

What's old, again, is now new, and the now new is bringing residents and excitement to that former historic neighborhood.
As stated in the Omaha Sunday Bee May 16, 1915, "The Blackstone is not an experiment it is a success." Once again, Omaha's structural steel fabricator, Paxton & Vierling Steel, helps solidify the historic corner, much like it did back in 1915.
Paxton & Vierling Steel is proud to be Omaha's fabricator of choice.
*Omaha Sunday Bee  May 16, 1915
**Omaha World Herald   July 31, 2018